Recover Space

Go vertical to 46'3" and better utilize your open space
Save Time

Dual delivery for the fastest picking speed
Reduce Risk of Injury

All items delivered at the best ergonomic height physical and optical safety barriers make Modula the safest in the industry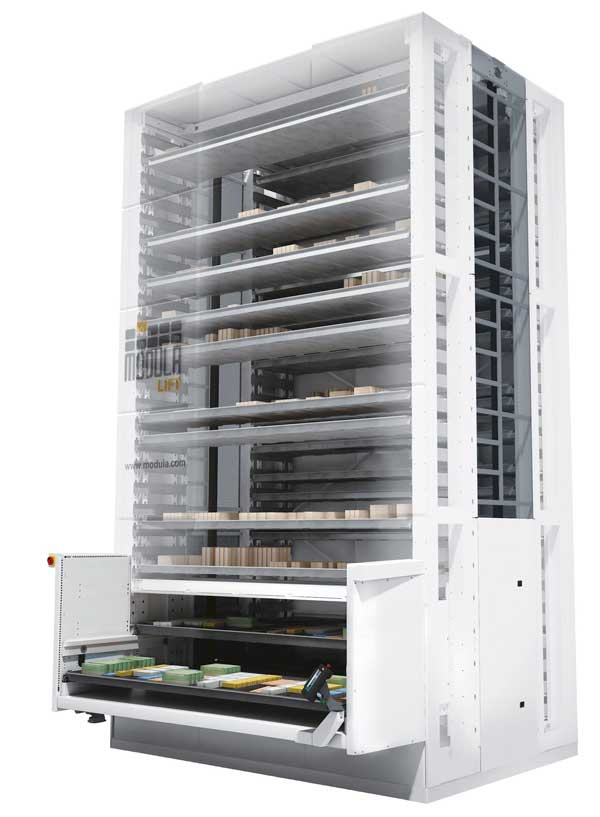 Increase Security

Operator restrictions to the machine and even to trays can be applied via the touch screen interface
Improve Accuracy

Tray managed access tracks inventory in real time
Boost Inventory Management

Link the Modula Vertical Lift WMS software to you ERP for integrated inventory management
Save up to 35% in Taxes by using Federal Tax Section 179
Ideal Storage Solution to Save Space, Improve Efficiency
Available in a wide range of widths, heights, and capacities, Modula Lift is the ideal storage solution for industrial products, components, and spare parts for all possible environments and industries.
By utilizing the available room height from floor to ceiling, this automated storage and retrieval system maximizes any area's storage potential, making it possible to recover up to 90% of space compared to standard shelving. Items can be stored up to 53 feet high in a safe and secure unit that automatically delivers them to an operator with a touch on the user-friendly Copilot controller or scan of a barcode. No more time wasted searching for items. The right part is delivered to the right person at the optimum ergonomic retrieval height.
With today's labor shortage and high turn-over, Modula's VLMs enable factories to keep up with their demand by providing a system that takes an operator minutes to learn.
Recovery of Floor Space – Reduce existing parts storage areas by approximately 85%, while being able to store more parts, add more service bays, have a larger showroom, offices, or an area for accessories sales displays.
Increased Operator Productivity – Faster processing of sales and service orders.
Improved Picking & Inventory Accuracy – Achieve inventory accuracy rates up to 99.9% and having improved parts security.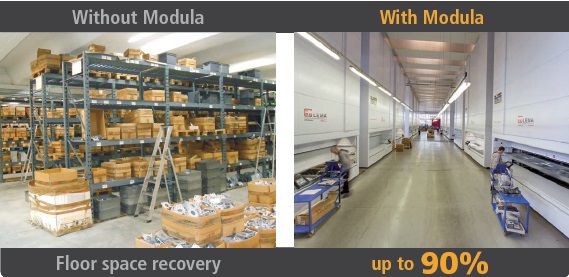 Modula Vertical Lift Modules are the ideal solution to recover space on your shop-floor or distribution area, while improving the efficiency, speed and accuracy of your picking operations.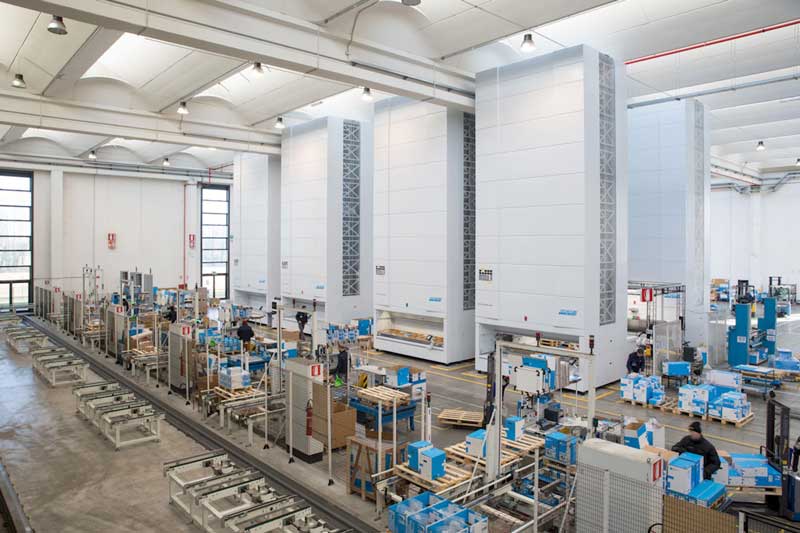 Operator friendly Modula Vertical Lift module with the touch screen console is suitable for any industrial environment. The ease of use allows the machine to work at high speed with a 120 tray/hour output speed. Tray sizes of up to 13.4 feet wide and load capacities up to 2,208 pounds means that a majority of applications can utilize this high efficiency system.  With two bay options and a single or dual delivery option you can create an ergonomic workspace and select the speed for your picking operation.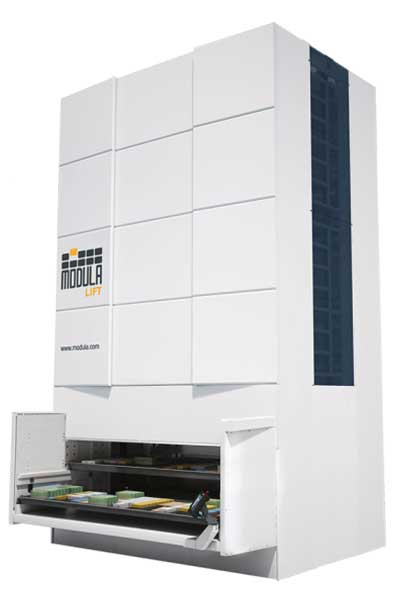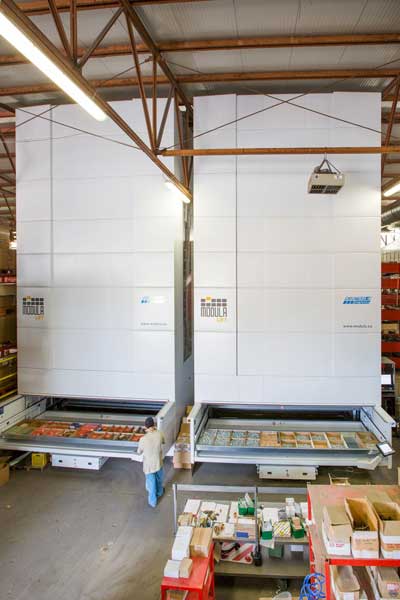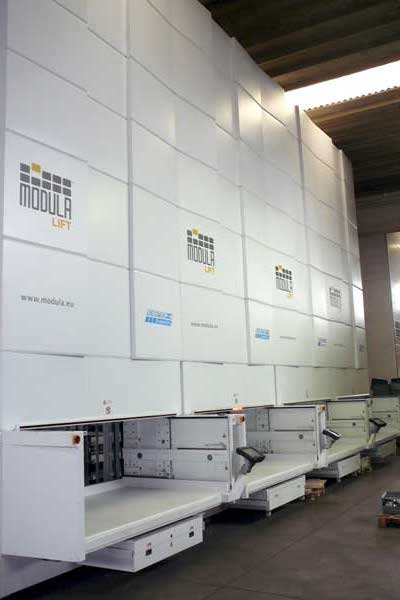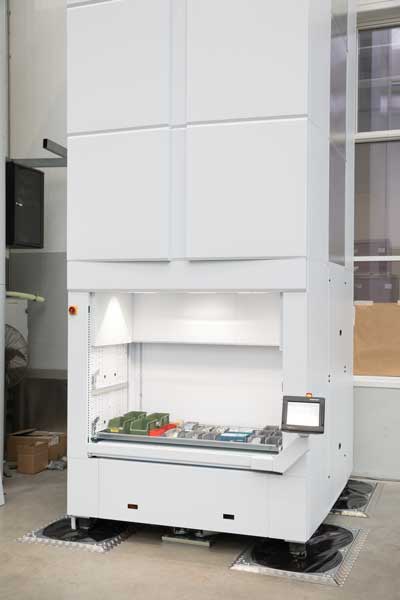 We can help you find the best solution! Call 1-800-466-9561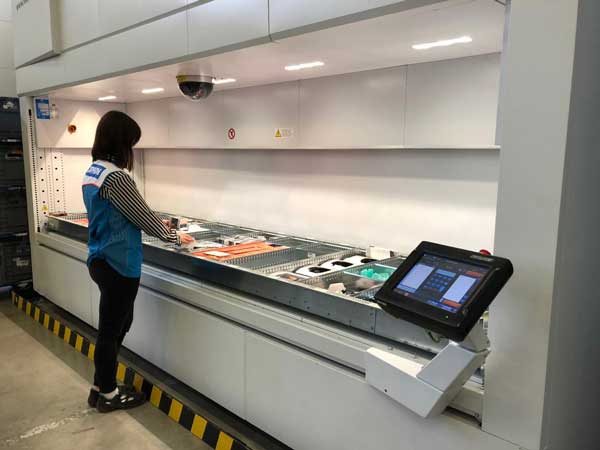 OnePick – No Operator? No Problem!
Just like a smart vending machine, the OnePick material handling system allows you to have a remote operator free solution.  Combined with the modular WMS software this system is able to extract the required items accurately and stage them to be moved via any material handling movement system. Modula OnePick can be fitted with special accessories such as partitions and dividers to organize the trays for greater flexibility and use. OnePick can retrieve multiple rows from the same tray and even use an advanced system to synchronize the extractor device and the tray movements. This makes the retrieval process precise and allows for premium tray space optimization. This is a maximum efficiency solution that produces no waste.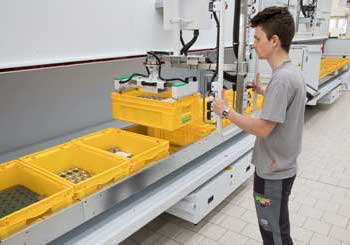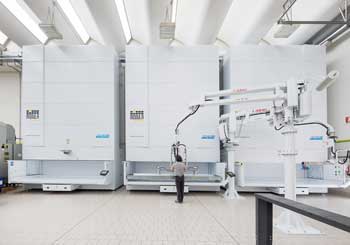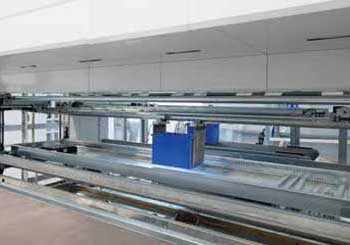 The utilization of robots has grown tremendously, and new markets are starting to further develop, such as the area of Collaborative Robotics. These modern robots are designed to be user-friendly, so people without knowledge of robotics can operate them. Robot manufacturers such as Yaskawa have made the deployment of these machines easier than you may think.
There are many different models available for different applications to make your business more productive and cost-effective.
Think About Vertical Differently
These options show the multitude of configurations you can choose from.  If you have any questions please don't hesitate to reach out, we can help!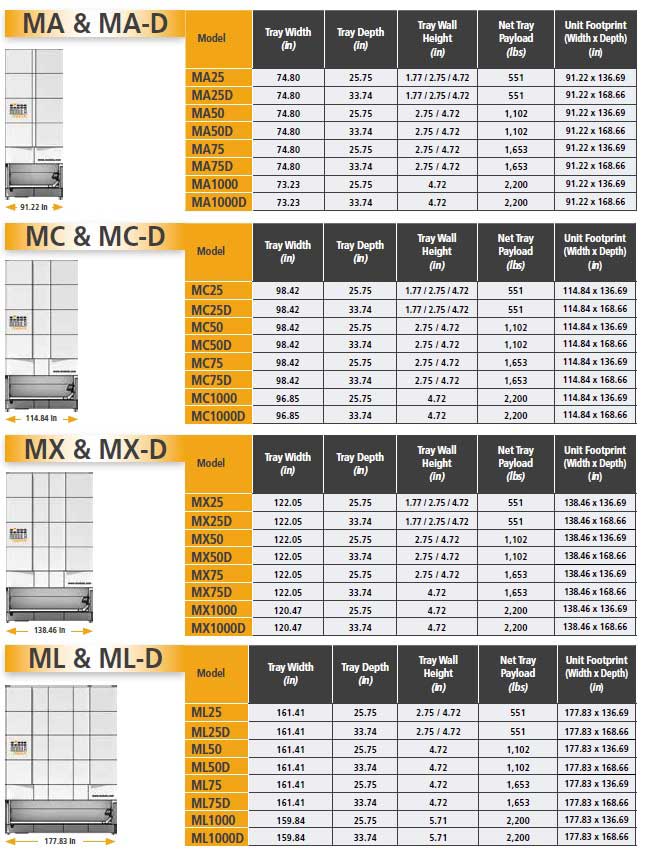 What Can You Store in a Modula?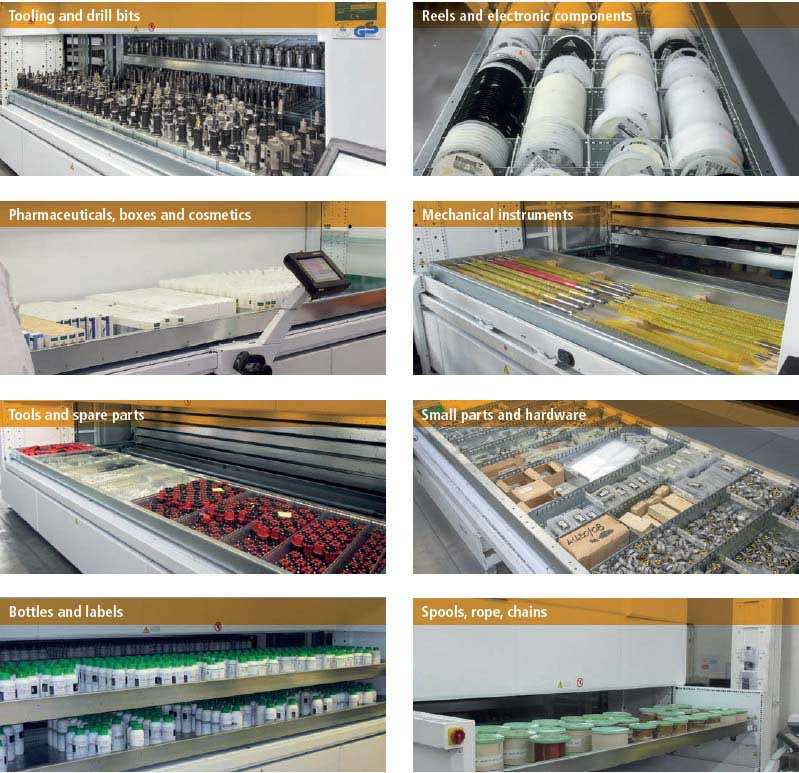 Reduce tray delivery time by 33% or more using dual delivery.