Space Optimization

Increase storage capacity up to 90%.
Increase Accesibility

Access and locate all your parts easier and faster.
Flexibility

Customize your solutions to better fit your needs and increase efficiency.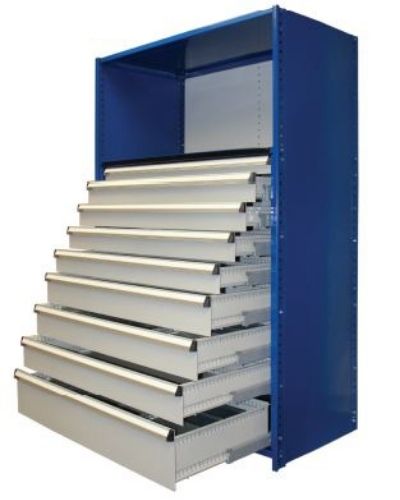 Durability

Made with high quality, rugged materials for increased lifetime.
Increase productivity

Reduce retrieval time for parts and materials by 70%.
Safe Solution

Reduce human risk and store large and heavy items with ease.
Space and cost saving storage
Automotive storage solutions are the perfect fit for distribution centers, industrial storage facilities, part distributors, and warehouses. These durable and cost-effective solutions can save valuable floor space and increase productivity.
We can provide the best storage solutions to fit your products and equipment. In addition, we can help with creating more efficient workspaces. The right solutions will improve efficiency, saving time and money.
High Density Storage with Drawers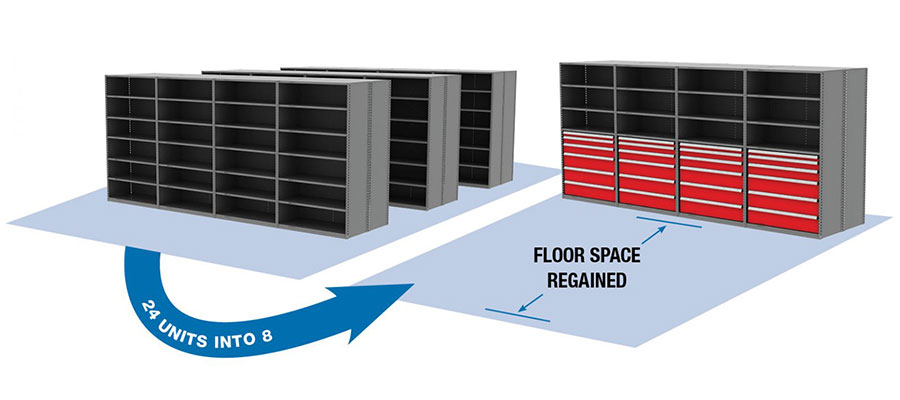 Save up to 90% of your valuable floor space
High-Density drawers will save space and are easy to install. The design allows the drawers to fully extend, providing the user easier access to parts and materials. Each drawer can support up to 400 pounds and has a new slide suspension system that provides smoother usage. Therefore, it reduces steel on steel friction for increased longevity.
This solution is customizable to better fit your needs. These drawers can be added to a variety of shelves. This way your storage systems stay organized as your business expands.
We can help you find the best solution! Call 1-800-466-9561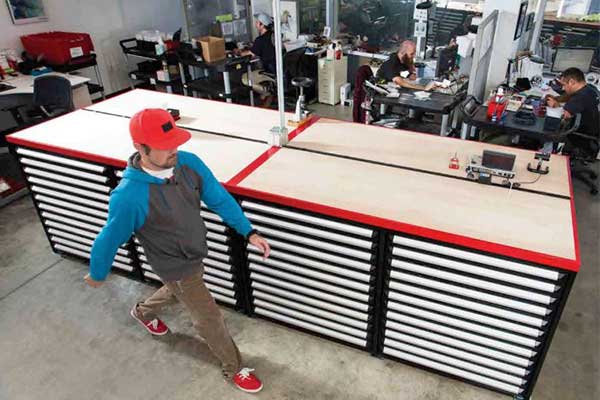 Workstations and Workbenches
The sleek and functional design of these automotive workstations allow technicians to have a clean and functional space to perform their daily tasks comfortably and with ease. These stations are highly customizable to provide an efficient and productive workspace. They have multiple features such as:
Drawers extend 110% for better accessibility.
Upper cabinets with doors that can be opened with one hand.
Knock-out back and bottom panels for lift and reel cabinets for easier installation and integration.
Wide variety of customization options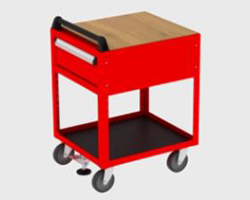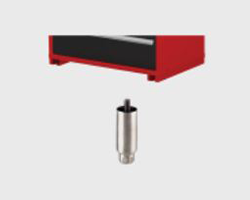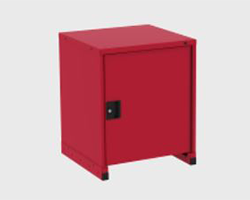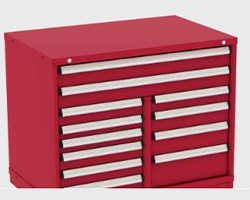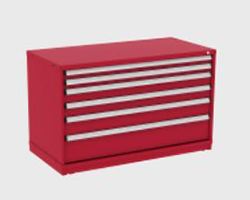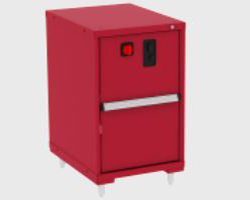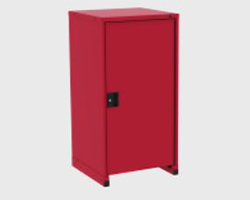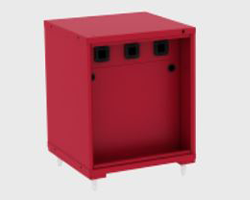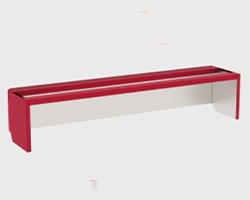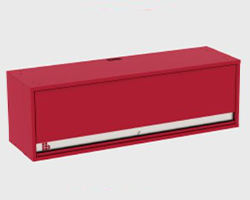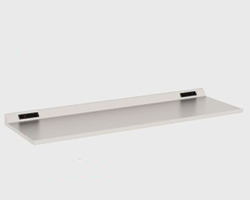 Vertical Storage for parts
For larger facilities, warehouses, and automotive dealerships, vertical storage solutions are key to running an efficient operation.
Vertical storage not only saves up to 90% of valuable floor space, but also provides more control over your inventory and significantly reduces the time spent picking up parts for customers and service. Additionally, these automated systems will keep parts and materials protected and easier to locate.
As an additional security measure, certain storage locations can be password restricted, keeping your inventory safe.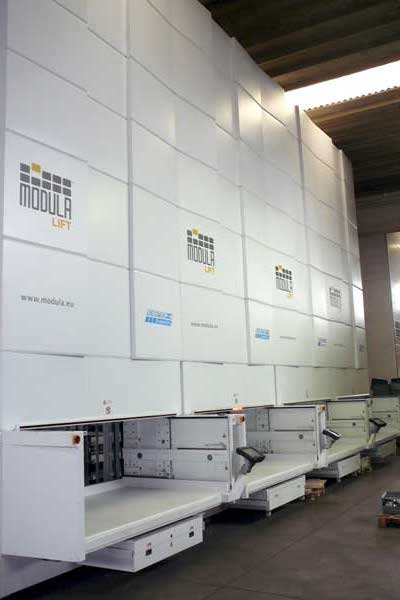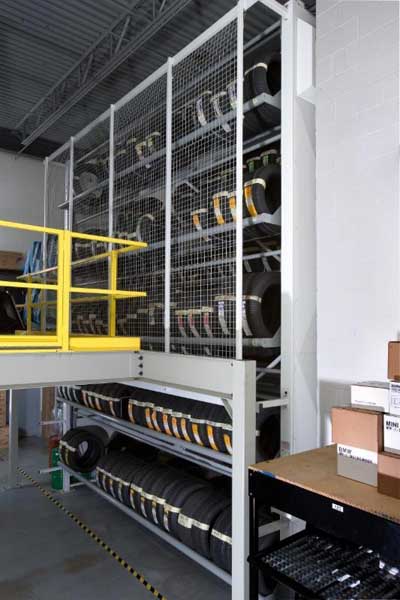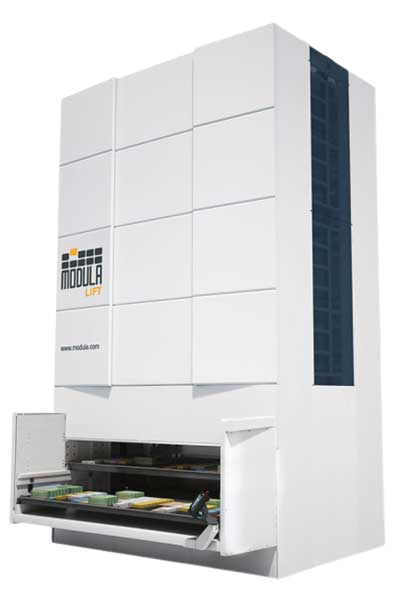 Automated Car dealerships solutions
For car dealerships and the automotive industry in general, these solutions can help maximize storage space, increase picking accuracy and reduce wait times. Their secure design keeps valuable parts safe in an enclosed space with limited access. Overall, these products would make your business safe, efficient, and highly productive.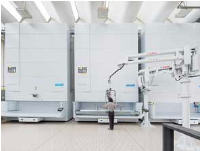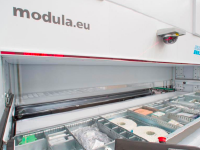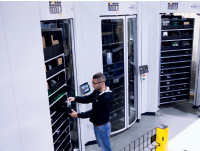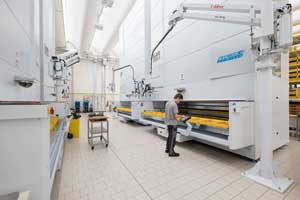 Modula Products & Solutions
Download the brochures below to learn more about Modula products and solutions.
Improve workflow and remain organized
The Vidmar industrial cabinets are the perfect solution for warehouse storages, manufacturing facilities and more. Their innovative and customizable design help create a productive and efficient work environment. There are multiple types of cabinets to fit your business specific needs.
Computer Cabinets
Keeping valuable equipment secure and protected is vital for running a smooth business operation. The Vidmar computer cabinets provide additional security options to ensure that the equipment stays protected against theft and damage. It also comes with additional features such as:
Double locking doors and optional hinge-lock bar
Multi-outlet power strip
Hideaway flipper doors
Reclosable tie-down strips
Foldable keyboard tray and printer shelf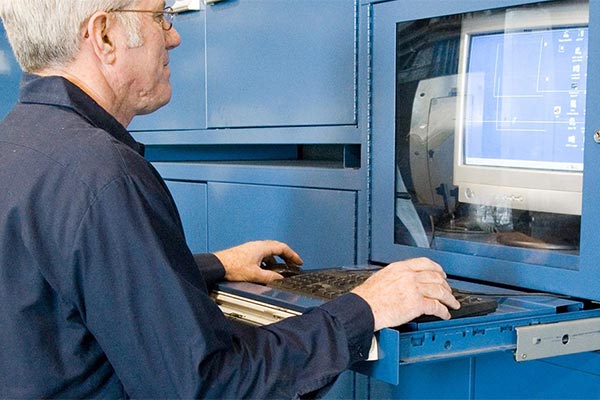 Mobile Storage Cabinet
Every business has different needs, that's why being able to customize your storage solutions can be a game changer for your industry. Tailor your different storage cabinets to create a more efficient work space. From vertical display cabinets to utility carts, the Vidmar mobile storage cabinets can take your inventory organization to the next level. These mobile cabinets are heavy duty and adaptable to any industry, even military use.
Roll Out Tray Cabinets
Big and heavy items are difficult to store and organized, but it doesn't have to be. The Vidmar roll out tray cabinets allow manufacturing and warehouse facilities to store large items and equipment while staying organized. The cabinets are sturdy and durable and can hold up to 440 lbs. while fully extend. They can also be adjusted to different heights to accommodate for different sized items.